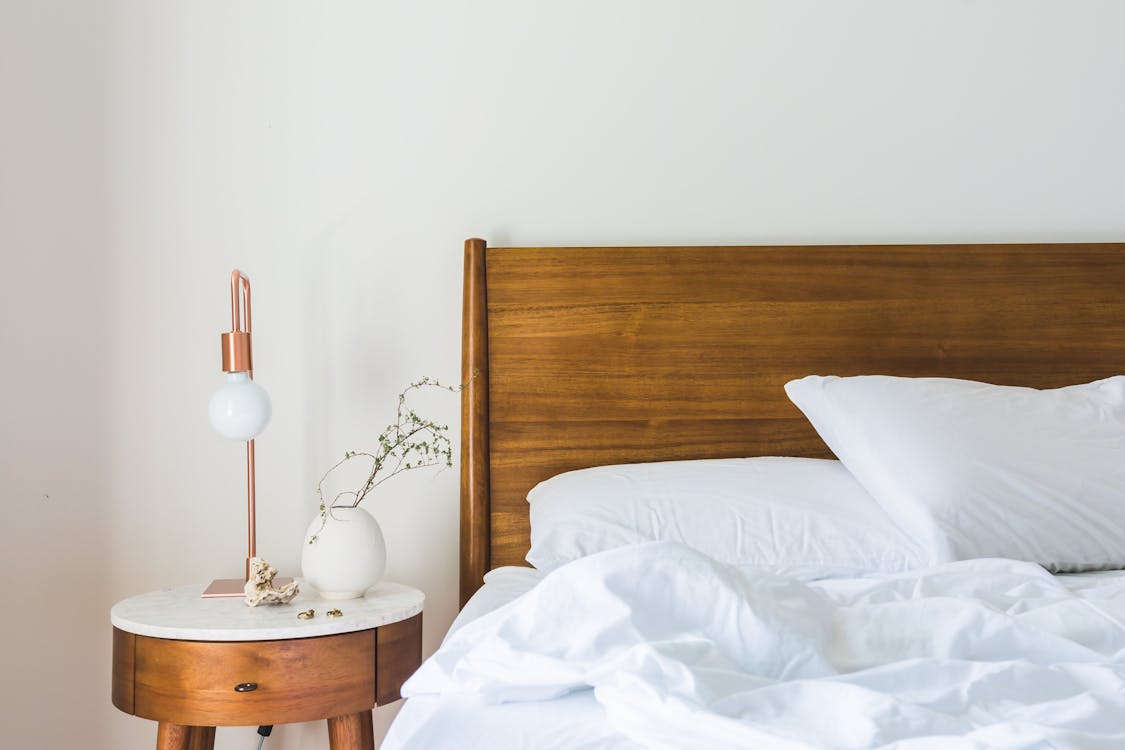 While we're all fans of beautifying the aesthetic of your room, we also happen to be big advocates of getting the most out of your bedroom. Smart hacks, simplifying things, and DIY storage ideas, are some of the things that are right up our alley.
So, if you're scratching your head trying to figure out how to declutter your small bedroom, these clever tips will come in handy to help you rest easier.
Organise your wardrobe like an OCD perfectionist
Your clothes and belongings are probably eating up valuable space and cluttering your room if they're laying around. Having a strict organisational method (and we really do mean strict) helps to keep things properly and orderly stored in your wardrobe and drawers.
Get rid of your old shabby clothes or clothes that you can't fit anymore, hang your clothes in an orderly fashion (eg. clothes in one area, pants in another), to prevent yourself from ransacking the drawer searching for your underwear or socks.
Think out of the box...literally
Don't limit your storage space to just wardrobes and drawers, think of creative ways to store your items. For instance, a "floating" wall shelf is one smart way to amplify your storage without sacrificing too much space. Overhead shelves work great to store your books and display items.
One more creative way to organise your items is to hack your bedroom door by adding rails, hooks, or even some velcro tapes. Use this to hang your outfit for the next day, or for easily accessible knickknacks.
Legoooosss!
Relatively simple, yet incredibly effective. If you're constantly scrambling to find your keys, or if you need to sort out tangling cables, your
old legos can literally give you a hand
to keep your cables organised.
Simply stick them to the side of your desk (or on the wall) with some
Sugru
and you have an awesome way of making your cables and wires accessible.
Your bed is most probably the biggest culprit in eating up valuable space, and this is more notable when you have a small bedroom. So, one smart hack that you can maximise your storage space is to have
platform beds
or storage beds.
The secret to these beds are the multiple drawer compartments, whether if they are under or around the mattress. This extra storage slot enables you to store items like clothes, books, magazines, or your movie collection. You can even hide secret presents from your kids!
If you're on a tight budget and if you're the kind of person who likes to build things, one relatively uncostly way you could do is to hack several IKEA products. Check out our guide on
building a platform bed using IKEA products
.
Install a pegboard
We're big fans of pegboards, not only do they look great in your home, but they're also excellent storage solutions. You can organise anything from artwork and bracelets, to bags and watches. The best thing about a pegboard is that the items are on display, so you don't have to ransack the drawer just to search for something particular. Hack magazines files to organise your letters and magazines
Your bills, magazines and letters will all pile up to become a paper landfill very quickly if you don't organise them properly. Instead of allowing them to overwhelm your room with clutter,
hack a couple of IKEA's KNUFF magazine files and a wooden shelf
, and you'll never have to stress about organising your letters and magazines again.
Hire Interior Designers at any budget
Our panel of Interior Designers will be able to help you at any given budget, plus with a free design consultation.
Hire an Interior Designer in Kuala Lumpur now